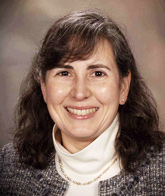 Maria Baldini-Potermin
Attorney
maria@baldini-potermin.com
Maria is the founder of the firm. Maria has been recognized nationally as a leading immigration attorney. In June 2013, she was awarded an American Immigration Lawyers Association (AILA) President's Commendation, "For Always Fighting for What's Right." In July 2010, AILA awarded Maria the Edith Lowenstein Award for Excellence in Advancing the Practice of Immigration Law. Since 2004, she has been recognized as a Leading Lawyer in Illinois in the area of immigration law.
Maria obtained her B.A. degree magna cum laude from the University of Dayton (Ohio) in International Studies and Spanish in 1990. She has been involved in the field of immigration law since August 1990. She spent four years working with detained noncitizens on the Texas-Mexico border, first for Catholic Charities and then for the South Texas Pro Bono Asylum Representation Project (ProBAR), including two years as an accredited representative. Between 1994 and 1998, she trained law students and traveled to ProBAR during law school breaks with the Asylum Law Project. She received an award for Outstanding Service in Defense of Human Rights through Asylum Representation from ProBAR in 1995.
Maria received her J.D. degree cum laude in 1997 from the University of Minnesota Law School. She served as an adjunct professor at the University of Minnesota Law School's Immigration Law Clinic from 1997 to 1999. In 1999, Maria received the Human Rights Volunteer Award from the Minnesota Advocates for Human Rights.
Maria was the recipient of two National Association for Public Interest Law (NAPIL, now Equal Justice Works) Equal Justice Fellowships to work with the Immigrant Law Center of Minnesota in St. Paul (1997 – 1999) and the National Immigrant Justice Center in Chicago (1999 – 2001). In the aftermath of the 1996 legislative overhauls of the immigration laws, she wrote the second and third state-focused manuals on the intersection of criminal and immigration laws and trained public defenders in Minnesota and then Illinois about the immigration consequences of criminal dispositions.
Maria is a member of the American Immigration Lawyers Association (AILA) and is active on the national and local levels. In 2004, she was awarded the Chicago AILA Chapter's Minsky Mentor Award. She served as a member from 2003 to 2005 and then from 2008 to 2010 as the vice-chair of the national AILA-Executive Office for Immigration Review Liaison Committee, which meets twice a year with the leadership of the Board of Immigration Appeals and Office of the Chief Immigration Judge. She currently serves as the chair of the national AILA Federal Court Litigation Section Steering Committee. She is serving on AILA Chicago Chapter's USCIS Asylum Office Liaison and ICE Enforcement and Removal Office Committees. Maria regularly speaks at national, regional, and local continuing legal education seminars and trains public defenders and non-profit organizational staff.
Maria is a member of the Federal Bar Association, Illinois State Bar Association, and Chicago Bar Association where she previously served as the Chair of its Immigration Law Committee. A long-time member of the National Immigration Project of the National Lawyers Guild, she has served on the Board of Directors since 2009. She is also a member of the Detention Watch Network and chaired its 2005 national conference.
Licensed in Minnesota and Illinois, Maria is admitted to practice before the U.S. District Courts for the Districts of Northern Illinois, Eastern Wisconsin, and Western Michigan as well as the U.S. Circuit Courts of Appeals for the Sixth and Seventh Circuits and the Supreme Court of the United States. Maria speaks Spanish fluently.
To view Maria's publications, click here.
To view Maria's presentations, click here.
Lisa Chun
Associate Attorney
lisa@baldini-potermin.com
Lisa is an attorney with over 13 years of experience practicing immigration law. She practiced as a non-profit attorney representing immigrants pro bono and advocating for immigrants' rights for most of her career before joining Maria Baldini-Potermin & Associates, PC. She specializes in representing immigrants with complex legal issues and humanitarian forms of relief.
Lisa received her Juris Doctorate from the University of North Carolina at Chapel Hill in 2003 and her bachelor's degree from the University of Pennsylvania in Philadelphia in 1998. As a child of immigrants, she understands the value that immigrants bring to America and the dignity with which they should be treated as they try to build their lives in this country. Lisa is fluent in Korean.
Lisa is a member of the American Immigration Lawyers Association (AILA) and the National Immigration Project of the National Lawyers Guild. She is licensed in North Carolina.
Ivonne Figueroa
Associate Attorney
ivonne@baldini-potermin.com
Ivonne graduated from DePaul University College of Law in 2016. While at DePaul, Ivonne was a member of the DePaul Latino Law Student Association and studied abroad in Cuba and Costa Rica.
Prior to joining the firm, she worked for a solo practitioner specializing in personal injury and domestic relations and then for a small immigration firm in Chicago. She is a prior volunteer for the Center for Economic Progress as a tax preparer and for the University of Illinois at Chicago as a tour guide for at-risk high school students.
Ivonne is a member of the American Immigration Lawyers Association (AILA) and the National Immigration Project of the National Lawyers Guild. She is licensed in Illinois. Ivonne grew up in Chile and is fluent in Spanish.